LX42  XT2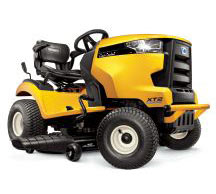 42" Twin Blade
22 HP Kohler® Engine
7000 series V-Twin OHV
SmartChoke™
Stamped Deck
Single Tube Bumper
Multi-trac Tires
LX46 EFI  XT2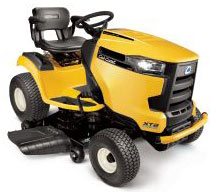 46" Twin Blade
679cc Cub Cadet Engine
V-Twin OHV
Electronic Fuel Injection
Fabricated Deck
Electric PTO
Keyless Engine Start
SLX54  XT2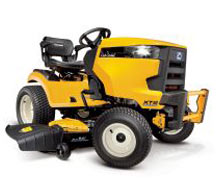 50" Triple Blade
FastAttach™ Blade System
FastAttach™ Brush Guard
25 HP Kohler® Engine
7000 series V-Twin OHC
Fabricated Deck
Optimized Steering
All Cub Cadet Models are available!  ask us how.
American Built Enduro Series
Multi-trac Tires
300 cold cranking amp battery
Cub Cadet bumpers
Cushioned Armrest for Comfort
Cub Comfort™ High Back Seat
Adjustable Seat: 10 degree incline and slide
Spin On Oil Filter for easy replacement
QuickAttach™ Deck
Automotive Style Disc Brakes
SmartJet™ Deck Washing System (High Pressure)
Cast aluminum housing transmission
5.5 mph forward speed
3.1 mph reverse speed
Flywheel 12 or 15 amp alternator
Fully pressurized oil pump (automotive style)
Robotically welded frame with corrosion defense
2 quart oil capacity
Hydrostatic Transmission: No shifting just hit the pedal and go!
factory warranty
3 year limited with unlimited hours (Includes Powertrain)
5 year limited chassis & front axle with unlimited hours